Thomas Mohlmanns vadermoord (VS #1)
Podcast: Play in new window | Download | Embed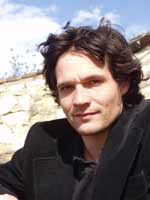 Het is een titelloos gedicht uit de bundel Kranen open van Thomas Möhlmann, dat de aanleiding vormt van de eerste aflevering van de podcast VersSpreken. Een wonderlijk gedicht, waarin een zoon zijn vader terecht wijst, vraagt zijn tanden te laten zien en zijn pap kauwt. Of kauwt hij op zijn vader?
Terwijl de regen steeds harder op het dak hamert, spreken dichters Erik Lindner, Samuel Vriezen, Matthijs Ponte en Joost Baars over tango, tanden, kiezers en vadermoord. De PvdA komt voorbij. De kloof. De revolutie.
Luister hierboven in de player naar het gesprek, of download de podcast hier (rechtermuisknop, opslaan als). Hieronder volgt het gedicht op schrift.
*
Kom vadertje laat je tanden zien, niet
je voortschrijdend inzicht: ik moet in je gelijk
kunnen wonen, echt ik ben blij
je tevreden te zien, dat je dingen hebt
neergezet die niemand je meer afneemt
wil niet zeggen dat alles er mooier op werd
alleen je eigen wereld is maakbaar
niet die waarin ik je een kleinkind geef
en ik wil daarover met je kunnen praten
vader laat dus je tanden weer eens zien, steeds
dommere mensen krijgen steeds meer gelijk
en natuurlijk zijn het kiezers maar waarvan
jullie bouwden een prachtig paleis pa
op een drassige bodem, ook ik geloof
in goede bedoelingen maar
steeds meer nog intussen in tanden
eet mijn pap nog met dezelfde lepel
maar kauw tegenwoordig voor ik slik:
niet je mening van vanavond
niet je wijsheid met de jaren.
Je tanden.
– Thomas Möhlmann (uit de bundel "Kranen open", Prometheus 2009)
n.b.: de tune van deze aflevering is het nummer "Resonance" van de Franse artiest Mindthings, en verkregen via een creative commons licentie via Jamendo.